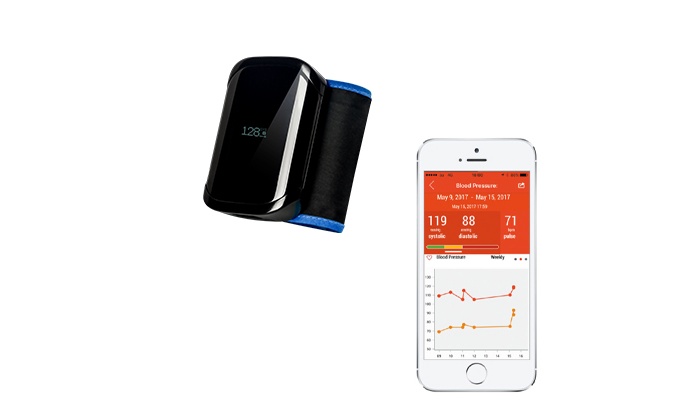 Wireless Wrist Blood Pressure Monitor
The smart way to a healthy life
The UB-1100BLE is the lightest wireless wrist blood pressure monitor (BPM) on the market.
The UA-1100BLE is a very compact, light, and wireless wrist BPM.
While conventional wrist blood pressure monitors are known to be compact and portable, accurate measurement is difficult for those who are not used to using them.
Therefore the UB-1100BLE has various functions that can provide easy and accurate measurement when compared to conventional models.
As with the UA-1200BLE, measurement can be started from an app or from the monitor itself.
Starting from the app allows you to see instructions and progress on your mobile device.
The UB-1100BLE allows up to 5 users and 1 guest, so one device can work seamlessly for an entire family.
An unlimited amount of readings can be stored on the A&D Connect app.
Of course, you can also share your data with your family.
This is the smart way to a healthy life. The UB-1100BLE will surely be the next standard for blood pressure monitors.
Product Information
Features
Compact and Comfortable
Start From App or Device
Smart Connect
Multi User(5 users +1 Guest)
Stores 100 measurements in Internal Memory
Correct Position Guidance(CPG)
Irregular HeartBeat(IHB) Indicator
Cuff Fit Error Indicator
Movement Error Indicator
| Specifications | | |
| --- | --- | --- |
| Measurement Method | Oscillometric Measurement | |
| Measurement Range | Pressure | 0-299 mmHg |
| | Systolic Pressure | 60-279 mmHg |
| | Diastolic Pressure | 40-299 mmHg |
| | Pulse | 40-180 bpm |
| Measurement Accuracy | Pressure | ±3 mmHg |
| | Pulse | ±5 % |
| Wrist Circumfrence | 13.5 cm - 21.5 cm | |
| Power Supply | 3.7 Li-ion 325 mAh | |
| Number of measurements | Approx. 100 times | s (With pressure value 170 mmHg, room temperature 23 °C) |
| | Internally powered ME equipment | (Supplied by batteries) |
| | Class II (Supplied by adapter) | |
| | Continuous Operation mode | |
| Clinical Test | According to ISO81060-2 | |
| EMD | IEC 60601-1-2:2014 | |
| Wireless Commuication | ZY (MURATA Manufacturing Co. Ltd.) | |
| | Bluetooth® Ver.4.1 Low Energ y | |
| | Technology BLP | |
| | Frequency band: 2402 MHz to 2480 MHz | |
| | Maximum RF output power: 2.1 dBm | |
| | Modulation:GFSK | |
| Operating Conditions | +10 °C to +40 °C | 15 %RH to 85 %RH/ |
| | 800 hPa to 1060 hPa | |
| Transport/Storage Conditions | -20 °C to +60 °C | 10 %RH to 95 %RH |
| | 700 hPa to 1060 hPa | |
| Dimensions | Approx. 54 [W] x 76 [H] x 21 [D] mm | |
| Weight | Approx. 92 g | |
| Ingress Protection | Device: IP20 | |
| Applied Part | Cuff Type BF | |
| Useful Life | 5 years | (When used six times a day) |