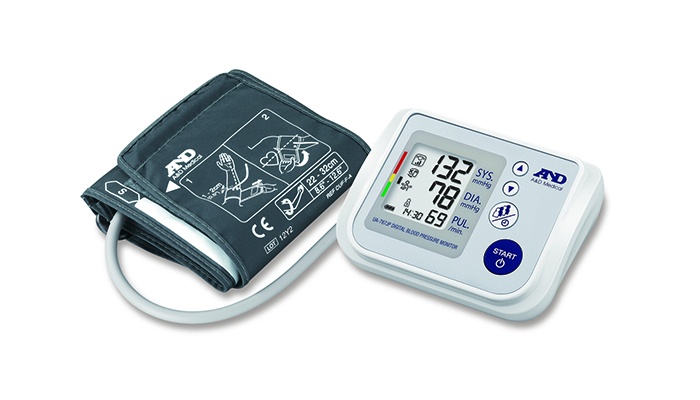 A&D UA-767 JP Digital BP Monitor
The UA-767 JP is a special model manufactured in Japan which adds to A&D Medical's strong reputation for "Japan Quality & Design". Professional models for hospitals, such as the TM-2655 and TM-2430 series, and analytical balances are also manufactured in the same factory. The UA-767JP is our "Made in Japan" model which promises high standards of reliability and quality.
The accuracy of the UA-767 JP was clinically validated. The simplest one-touch operation of this unit offers the user precise BP results. The 3-line display shows all the readings (systolic, diastolic, and pulse) simultaneously. There can be no mistakes or confusion when reading the results.
For orders, call us at • +63908 8679353 or 8633-1931. Also available in selected Mercury Drug stores nationwide. 
Product Information
Features
One-Touch Operation
Cuff fit error indicator & Movement error indicator
Latex and Metal free, Slim fit cuff (22-32 cm)
%HB indicator to show frequency of Irrefular heartbeat
WGO Classification indicator
4-user memory (60x4) + average reading
Clock & Calendar
Manufactured in Japan
| Specifications | | |
| --- | --- | --- |
| Measurement Method | Oscillometric Measurement | |
| Measurement Range | Pressure | 0-299 mmHg |
| | Systolic Pressure | 60-278 mmHg |
| | Diastolic Pressure | 40-200 mmHg |
| | Pulse | 40-180 bpm |
| Measurement Accuracy | Pressure | ±3 mmHg |
| | Pulse | ±5% |
| Power Supply | 4 x 1.5V batteries (R6P, LR6 or AA) | |
| | or AC adapter (TB-233C) (Not included) | |
| Number of measurements | Approx. 700 times | LR6 (alkaline batteries) |
| | Approx. 200 times | R6P (manganese batteries) |
| | With pressure value of 180 mmHg | at room temperature of 23 °C. |
| Classification | Internally powered ME equipment | Supplied by batteries) |
| | Class II | (Supplied by adapter) |
| | Continuous operation mode | |
| Clinical Test | According to ISO81060-2:2013 | |
| EMD | IEC 60601-1-2: 2014 | |
| Memory | Last 60 measurements | for each of the four users |
| Operating Conditions | +10 to +40 °C | 15 to 85 %RH |
| | 800 to 1060 hPa | |
| Transport / Storage conditions | -20 to +60 °C | 10 to 95 %RH |
| | 700 to 1060 hPa | |
| Dimensions | Approx. 140 [W] x 60 [H] x 105 [D] mm | |
| Weight | Approx. 255 g, excluding the batteries | |
| Ingress Protection | Device: IP20 | |
| Applied Part | Cuff BF Type | |
| Useful Life | Device | 5 years (when used six times a day) |
| | Cuff | 2 years (when used six times a day) |
| | AC Adapter | 5 years (when used six time a day |