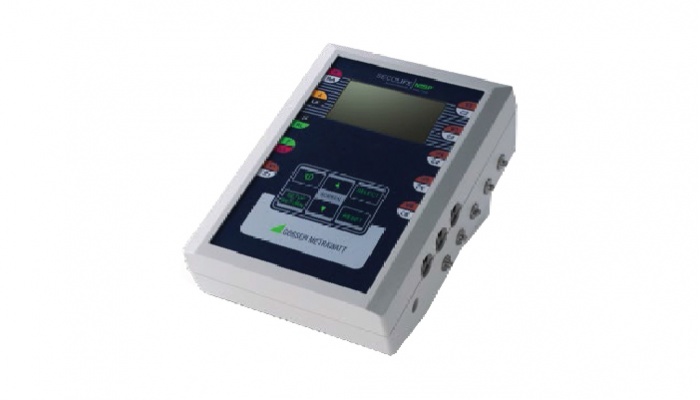 Benefits:
The SECULIFE | NIBP is the high-end product from the new range of microprocessor-based NIBP simulators and is distinguished by a great variety of functions.
It includes functions such as NIBP, IBP, ECG, temperature, arrhythmia, respiration, leak detection and much more.
Specially developed to cover a great diversity of functions and nevertheless to ensure a compact design, the SECULIFE | NIBP fulfills the requirements of modern medical technology. It makes no compromises with regard to functionality and input diversity. There's hardly another product with a similarly large range of features.
And the ability to provide offsets for specific NIBP manufacturers is otherwise only made available by systems with considerably higher procurement costs.
In addition to visualizing selected parameters and functions, the utilized graphic display can also be used for the visual representation of waveforms and to display pressure values.
Integrated flash memory permits trouble-free firmware upgrades. It's equipped with freely selectable modes including adult, neonatal, hypersensitive and hyposensitive.
It can be easily expanded to include an SpO2 function.
The SECULIFE Ox one FingerSIMTM test system makes it possible for technical medical personnel to evaluate pulse oximeters and sensor functions under three simulated light absorption conditions.
Typical values of 80%, 90% and 97% SpO2 can be simulated. With the help of this new simulation method, interaction between the sensor's sensitivity to light and
oximeter calibration is taken into consideration.
Product Information
Features
NIBP, IBP, ECG, temperature, arrhythmia, respiration, leak detection and much more.
SpO2 can be connected – compatible with SECULIFE OX1
Small, portable, lightweight
Easy operation with just a single key
0 to 500 mm Hg pressure gauge
±1% deviation from measured pressure value
Digital pressure envelope offset
Total pressure and BP waveform displays
Available modes: adult, neonatal, hypertensive and hypotensive
Various display screens and character sizes
Expandable during mobile use by means of flash programming
RS 232 port
Peak pressure detection with simple reset function
ECG read-out with complete NSR waveform
Simulation of sinusoidal respiration
ECG performance test waveforms
Pacemaker waveform
ECG alarm test
Read-out of synchronized invasive blood pressure
Selectable IBP sensitivity: 5 or 40 μV / V / mm Hg
Leak test
ECG arrhythmia waveforms
ECG arrhythmia sequences
YSI 400 and 700 simulation temperature
10 universal plugs for patient connector cables (BPPRO)