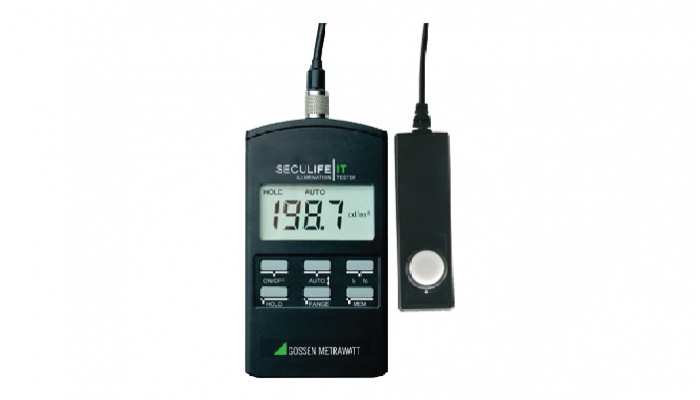 Benefits:
The SECULIFE | IT is a high-precision luxmeter for use in hospitals and medical practices.
It reliably measures the illuminance of daylight, as well as all types of artificial light sources, and is ideally suited for quality assurance:
Due to its outstanding accuracy in accordance with class B, the SECULIFE | IT-B is used primarily for certification and inspection applications.
An additional measuring range with a high initial sensitivity of 0.01 lux makes it possible to measure extremely small illumination intensities. This even allows for reliable measurement of emergency lighting.
With accuracy in according to class C, the SECULIFE | IT-C is used primarily for general applications as an industrial measuring instrument.
The smallest of four measuring ranges begins with an initial sensitivity of 0.1 lux.
V(λ) matching deviation, which amounts to f1' < 7.5%, is considerably better than the permissible error limit for class C.
As opposed to the SECULIFE | IT-B / IT-C , the class C SECULIFE | ITBASE doesn't have a USB port. Great emphasis is placed upon reliability by means of calibration at GOSSEN For purposes of substantiation, a factory calibration certificate or a DAkkS calibration certificate can be ordered along with either variant.
Product Information
Features
Automatic and manual measured value switching
Measured value memory
Luminance attachment (optional)
Illuminated display