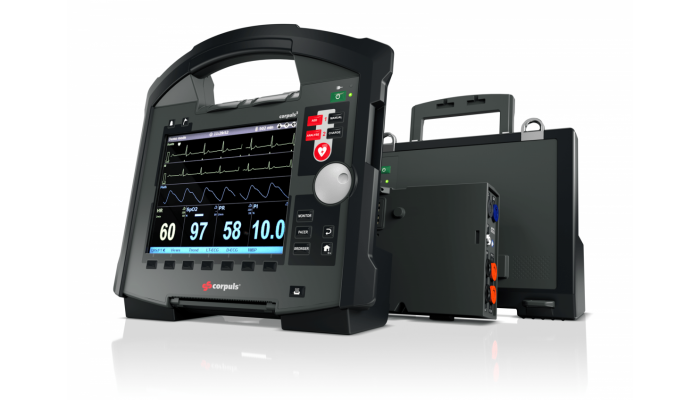 The Next Generation of Modular Defibrillator/Monitoring Device
THREE MODULES, FLEXIBLE APPLICATION
The corpuls3 is not only a device – it is a 3 module system:
Monitoring Unit
Patient Box
Defibrillator/Pacer
The built-in connectivity functions such as 4G modem, WLAN or LAN are ideal for telemedicine and the corpuls communication platform corpuls.mission.
MODULAR AND UNIQUE
Constant Monitoring From the mission site to the hospital
Constant monitoring from a safe distance (for example in CT)
Better ergonomics for patient transport by separating the modules
MONITORING UNIT
The Monitoring Unit is the control centre of the corpuls3T. At just 2.9 kg, including the battery and printer paper, it is about as thick as a newspaper and can be comfortably held in one hand.
Up to 6 curves and 13 vital parameters can be displayed simultaneously on the brilliant 8.4" display. Fully customisable, freely namable and – in case of the NIBP display – with quality indicator. In addition, up to 6 curves can be printed in real time.
PATIENT BOX
The Patient Box is the "heart" of the system. Here, all vital parameters and measured values are collected, measured and stored. Values recorded via pre-connected sensors are sent wirelessly and in real time to the monitoring unit. There they are displayed and/or processed
Due to its low weight (between 1.1–1.4 kg depending on equipment), the patient box is so compact that it can remain with the patient for transport. This also means that all the sensors and cables can remain with the patient. Thus keeping them out of the way and enabling seamless monitoring during patient transport – e.g. through a narrow staircase.
The Patient Box can be operated completely independently. The backlit monochrome display enables patient observation even without a Monitoring Unit (including voice recording and acoustic alarm). All data is saved for transfer later.
DEFIBRILLATOR / PACER
The modular design of the corpuls3T allows complete mechanical separation of the Defibrillator/Pacer. The modules remain wirelessly connected. As a result, the weight of the corpuls3T system can be significantly reduced – ideal for better mobility and flexibility in a time-critical transfer of the patient e.g. from ambulance to hospital. This allows shock delivery from a safe distance via the Monitoring Unit (using corPatch therapy electrodes).
Product Information
Specifications of CORPULS 3T
Transflective 8.4'' Touch-Display
Wide printer (106 mm)
Weight: 6.5 kg (corpuls3T in basic configuration)
Dimensions of complete device (WxHxD): 30.5 cm x 29.6 cm x 19.5 cm (corpuls3 SLIM CLASSIC & TOUCH)
Extremely high dust and splash protection (IP55)
Operation range: –20 °C bis +55 °C (basic functions: ECG monitoring, defibrillation)
DIN EN 1789
Conforms with selected sections of the international Standard for Airborne Equipment RTCA DO 160 G
Conforms with selected sections of the US Military Standard MIL STD 810
| Specifications of MONITORING UNIT | |
| --- | --- |
| Weight | 2.9 kg |
| Dimenstions | 30.5 cm (W) x 29.5 cm(H) x 12 cm (D) |
| Up to 6 curves and 13 vital parameters | |
| Diagnostic 12-lead ECG preview | |
| Quick access to important menu items via 7 softkeys and function buttons | |
| 1-2-3 operation in defibrillation modes | |
| Wide printer (106mm) with simultaneous real-time printout of up to 6 curves | |
| 4G modem, WLAN or LAN port for data transmission/telemedicine | |
| All-around impact protection | |
| Specifications of PATIENT BAG | |
| --- | --- |
| Weight | 1.1 -1.4 kg |
| Maße | 26.5 cm (W) x 13.5 cm (H) × 5.5 cm (D) |
| 12-lead diagnostic ECG, heart rate | |
| ECG-Analysis and Information Software | |
| Masimo Rainbow SET® Technology for SpO2, PP, PI, SpCO, SpMet, SpHb | |
| Non-invasive blood pressure measurement (SunTech®) | |
| Capnography with mainstream technology capONE® | |
| corPatch CPR-Feedback | |
| 2 channels for temperature measurement | |
| 4 channels for invasive pressure measurement | |
| Display for vital parameters, remaining time and alarms | |
| Acoustic alarm indicator | |
| Microphone for audio recording | |
| Bluetooth and CompactFlash® | |
| Specifications of DEFIBRILLATOR | |
| --- | --- |
| Biphasic, rectangular waveform, impedance compensated | |
| 2 to 200 Joule, configurable energy protocol | |
| AED and manual defibrillator | |
| AED protocol according to the current Guidelines, update-able anytime | |
| Pacer with FIX-, DEMAND- and OVERDRIVE mode | |
| Pre-connected corPatch therapy electrodes in separate bag | |
| Up to 200 shocks with fully charged battery | |
| Use with hard paddles as well as internal shock spoons also possible | |
| Weight | 2.5 kg |
| Dimensions | 28 cm (W) × 22 cm (H) × 12 cm (D) |