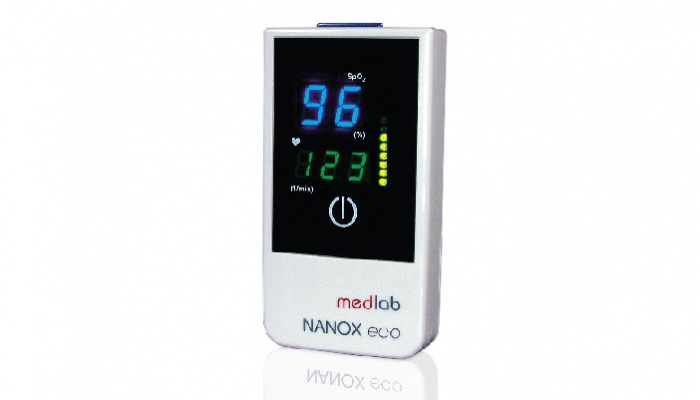 Medlab Nanoxeco
The NANOXeco pulse oximeter has everything you expect to see in a handheld device used for spot checks, at an extremely attractive price.
It measures a patient's SpO2 and pulse rate. The unit uses a two colour display to make it easy for the user to distinguish between oxygen saturation and pulse rate.
The bargraph gives important information about a patient's perfusion at the probe site.
The device works with two AA batteries, alkaline or rechargeable, for more than 15 hours.
If you compare it with other instruments of its class, the major differences are the large display of Spo2 values in blue colour and the saturation dependent pulse tone. The pulse tone can be switched off also.
The on/off switch of the NANOXeco is seamlessly integrated into the front plate, which makes it very easy and efficient to keep the unit clean.
The small size (120 x 65 x 22 mm) and the low weight of approximately 130 g make the NANOXeco one of the most attractive solutions available today.
Product Information
Features
Measures a patient's SpO2 and pulse rate
Large, bright and easily readable LED displays
Two colored display with pulse bar graph
SpO2 dependent pulse tone (muteable)
Contactless on/off switch