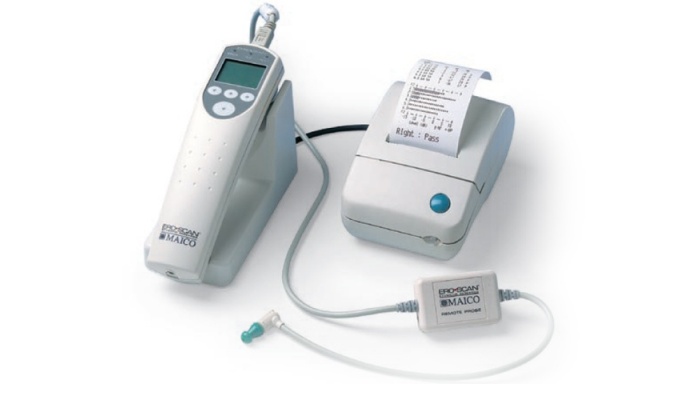 Why use Otoacoustic Emissions (OAEs)?
Otoacoustic emmisions are sounds that are produced by the cochlea (outer hair cells) and can be measured in the ear canal. When sound passing through the ear canal reaches the cochlea, the vibration stimulates thousands of tiny hair cells. This creates a byproduct that can be detected and measured.
OAEs only occur in a normal cochlea with normal hearing sensitivity. If there is damage to the outer hair cells, which produces hearing loss, then OAEs will not be present in general, OAEs will be present if hearing is at 30dB or better. PASS test results mean OAEs were detected. If there is damage to the outer hair cells producing a mild hearing loss, OAEs may not be present. The test result is REFER and the patient may be at risk for possible cimmunication handicaps and can benefit from further diagnostic assessment.
Product Information
Features
Test both ears in less than a minute
Results are displayed as PASS or REFER
Test is completely objective (no response from patient is necessary)
Option to print results
Accurate results
Can come in DPOAE, TEOAE or combo versions
| Specifications | |
| --- | --- |
| Measurement type: | TEOAE or DPOAE |
| Frequency range: | 2 to 5 kHz (DPOAE),1.5 to 4 kHz (TEOAE) |
| Stimulus intensity range: | 40 to 65 dB SPL |
| Maximum output: | 90 dB SPL |
| Microphone system noise: | -15 dBSPL @ 1 kHz (1 Hz BW) |
| Stimulus sampling rate: | 31.25 Hz |
| Power supply: | 6 V- batteries - four AA cells |
| Battery life: | typical 300 tests |
| Probe weight: | 300 g (including batteries) |
| Display: | LCD-display 4 lines x 10 characters |
| Printer (optional) | |
| --- | --- |
| Printer type: | Thermal dot matrix |
| Speed: | > 10 lines / second |
| Operating noise: | < 50 dB SPL |
| Power supply Mains: | 100 ... 240 V 50/60 Hz |
| Printer weight: | 630 g (with power supply or battery pack) |
| General | |
| --- | --- |
| Standards | IEC 601-1, according to medical Directive 93/42/EEC, FDA 510 (k) #980533 23.3.1998, CE 0124 |
| PC-interface | serial RS 232 |