Wellness PRO Recognized as Most Innovative by St Luke Medical Center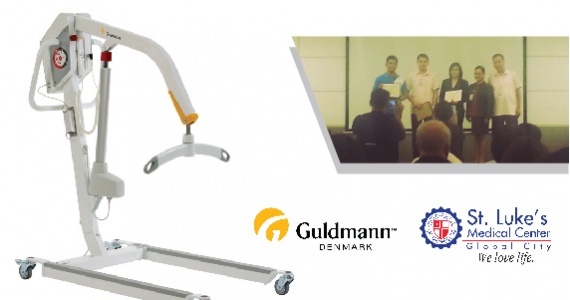 St. Luke Medical Center – Global City has awarded Wellness PRO Inc, the recognition of Most Innovative Supplier during their Supplier Medical Assembly last January 20, 2016 at Henry Sy Auditorium.
Thru this award, SLMC confirms the value of the innovation in better, safer Patient Handling introduced by Wellness PRO.  Wellness PRO facilitated the adoption of the technology of the
Guldmann GL5 Mobile Lifter, V. Guldmann of Denmark, in SLMC daily care operations. 
The Guldmann GL5 Mobile lifter allows the moving / transferring of the person in seated and in recumbent position.  Hence, the Guldmann GL5 Mobile Lifter is appropriate for all types of patients.
To date, as many as 5 units have been installed in SLMC of the Guldmann GL5 Mobile Lifter.
SLMC has adopted the Guldmann GL5 Mobile Machine as its Mobile Wellness Lifter.  The Guldmann GL5 Mobile lifter assures ease and effective comfort for patients and attending health care professional during any transfer and/or moving of the patient in the various hospital section setting.
Handing out the award were St Luke President Dr. Edgardo Cortez (President & CEO),  Mr. Rafael Solis (Vice President of Hospital Operations) and Mr. Ricky Sison (Vice President and Head of Supply Management Group), as witnessed by the Purchasing Department, Supply Chain and Management Department and over 100 accredited local suppliers.  Mr. Christian Paulo Padua, Business Development Associate, received the award on behalf of Wellness PRO.
St. Luke's Medical Center- Global, through this award, recognizes who effectively collaborate and who readily support SLMC achieve its goals and plans to deliver the world class of patient care in the country today. 
SLMC has been in operation over 130 years, distinguished by sustained innovation, professionalism and patient centered values.
St Luke's Medical Center ranks vendor partners via Quantitative Assessment and Quality Rating (e.g.  Innovation and Technology, Service Support and General Management). 
During the assembly, St Luke's leadership discussed the SLMC mission and vision, Ethics and Practices Guidelines, Development Goals for 2016-2017, Budget for year 2016-2017, and Statistics for every suppliers' performance.  
Wellness PRO is a proud vendor partner of St. Luke's Medical and treats this award as confirmation of its success in pursuing to bring better medicine, higher quality patient care here in the Philippines thru the introduction of innovations in medical technology solutions from the best around the world.