Wellness PRO and Ginevri Courtesy Visit to Medical Institutions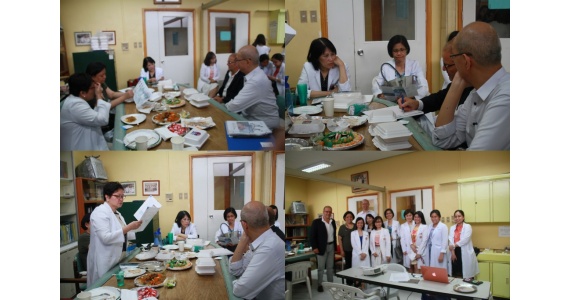 Wellness Pro Incorporated and Mr. Andrea Ginevri from Ginevri, Italy conducted a three-day courtesy visit last September 6-8, 2016 to Medical Directors, Neonatologists, President and Vice President of different medical institutions.
On September 6, meeting with Neonatologist Kristine Tumale discussed the International PSNbm lasted February 1-3, 2016, the possible leasing service of ventilation to Fabella Medical Center, and her involvement in the preparation for next year's convention was also tackled. Lined next actions to the courtesy visit are to provide studies regarding Guilia, provide videos of Guilia and explore discussion regarding cooperation for ventilation. Another courtesy visit to Dr. Leonora Pascual, a medical director of Ospital ng Sampaloc was ensued.
Courtesy visit on the second day, September 7, 2016 was held at PSNBM UST with the Vice President Dr. Josie Kho. During then the matter dealt was the thrusts of PSNbM which is resuscitation and the society donated some equipment for some hospitals. Also discussed their next actions which are to provide studies regarding Guilia, provide videos regarding Guilia and explore discussion regarding cooperation for possible scientific forum by 2017. Next courtesy visit to this day was held at UP-PGH Manila with Dr. Resti Bautista which discussed NIPPV, and he, himself being in charge as scientific chair for the PSNbM convention next year and for equipments in UP PGH and currently they are looking for some and so on, and lastly was most neonates suffers RDS.
On the 8th of September, Wellness PRO and Mr. Ginevri conducted their courtesy visit to the President of PSNBM, Dr. Joey Salazar. During that day they discussed about the coordination of pre-convention and scientific meeting for PSNbM 2017. They also conducted courtesy visit to Neonatologist Dr. Melissa Juico of Mary Johnston Hospital which had a neonatal training from Japan regarding neonatal care and found that similar NIPPV was encouraged. Next action steps discussed are to provide clinical studies and video of Guilia, details regarding baby start for delivery, provide details about phototherapy, a copy of the first study regarding Gulia and to locally encourage research items of Ginevri. Lastly, was a visit to the medical director of Justice Jose Abad Santos Gen. Hospital, Dr. Merle Sacdalan. They were interested to try baby start, phototherapy lamp, transport incubator and polytrend. They also discussed about the medical mission in Samar. Next actions steps are to provide details regarding baby start for delivery room and set demo presentation of transport incubator, phototherapy and polytrend.
During the said exclusive event, the distributor and the customers cohered to training and promotion of Ginevri with full knowledge of the medical devices that provides greater experience, increases efficiency and productivity in the healthcare facilities, helping to maintain at constant level the safety product standards.